Making the most of our limited time in the U.K., my friend Gretchen and I (and her pops, Hank) spent a couple of days taking in the sights, sounds, and accents of this swinging capital starting with our base in the Paddington station area:
From visiting Trafalgar Square, taking the Tube, and chowing down on some tasty fish and chips, to being surrounded by iconic red buses and phone booths, it's definitely not hard to get into the heaving British spirit around these parts:
On my last excursion to London back in 2002, I was just coming off of my obsession-fueled and student backpacker-funded (aka, broke) pilgrimage to all of the Beatles' sights in their hometown of Liverpool. Of course, Abbey Road was on the list of my London must-dos at the time, but traveling alone, I didn't have anyone to get a cheesy photo of me on the crossing! Thankfully, Gretchen and Hank didn't mind me dragging them into traffic to make up for it:
Abbey Road Studios, where almost every single Beatles' song was produced and recorded:
These aren't your el cheap-o Southeast Asian markets, that's for sure!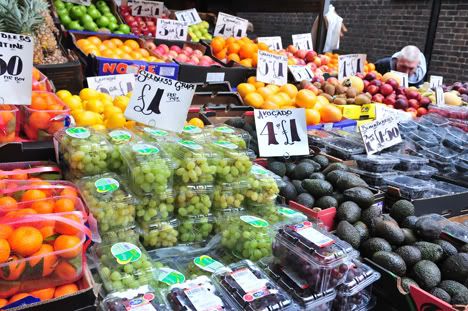 A highlight on this London journey was having traditional afternoon tea, complete with finger sandwiches, homemade scones with clotted cream and jam, and a variety of sweets! Fabulous custom:
No trip to London is complete without a jaunt around Buckingham Palace and the Mall:
One of my favorite London sights is the majestic Tower Bridge:
And as luck would have it, we were just in time to watch the ceremonial floating of the Olympic 2012 rings (pictured below with the Tower of London in the background) down the Thames River and under the bridge!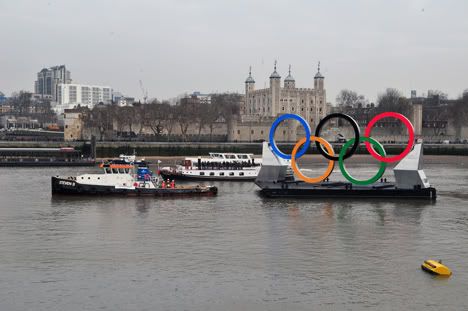 This turned out to be a bigger event than we had anticipated with music, news crews, patriotic children...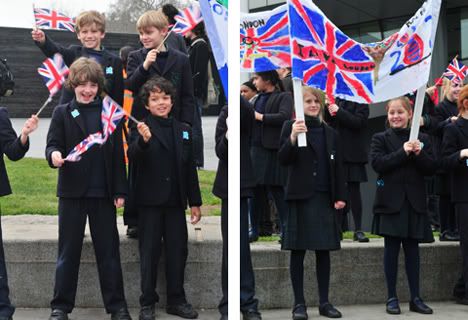 ...and a very awesome chance to see a rare opening of the steam-powered bridge itself!
We even got a little up close and personal with the mayor of London, Boris Johnson, before cramming some more food and sights into our time!
As London's hosting not only the the Olympics this year, but also the Queen's Diamond Jubilee, it was definitely an exciting time to be there! There's really no place like London--it's a city to experience for sure!