The largest city on earth is no easy place to tackle as an independent traveler. But, boy it sure is fun (and tasty) to try! My mom flew over to enjoy her first taste of Japanese mania with us in this incredible city: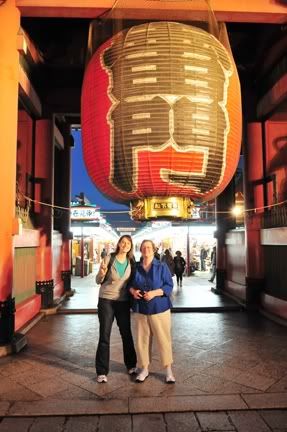 "Going to" Tokyo usually consists of a lot of walking, people-watching, fashion-gawking, food consumption, and dazed wonderment in general. We found that two of the best places for all of the above were the overly affluent Ginza district (I like to count the ugly Louis Vuttion bags), followed by some serious youth culture overload in Shibuya for the evening: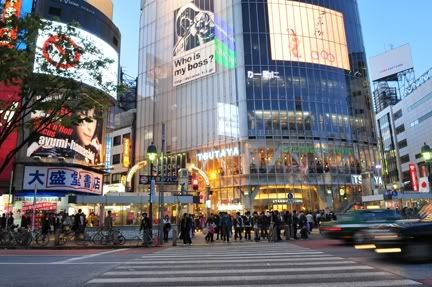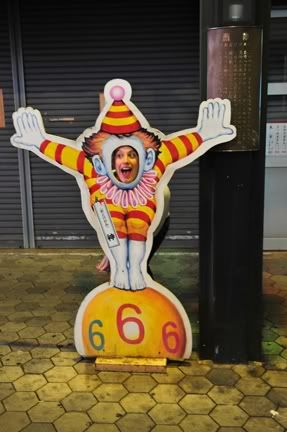 We used the 4:30am Tokyo sunrise to pry us out of bed in order to make the journey down to the famed Tsukiji Fish Market on the harbor. This place truly is an incredible throng of merciless motorized carts speeding down the narrow lanes, busy wholesalers weighing and cutting their stock for the day, band-saws slicing through huge frozen tuna as if they were pieces of lumber, and local restaurant owners perusing the more than 400 different types of sea critters at their disposal. This is the single largest wholesale fish and seafood market in the world, and I highly recommend it if you find yourself in Tokyo: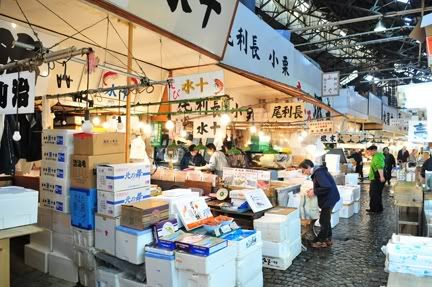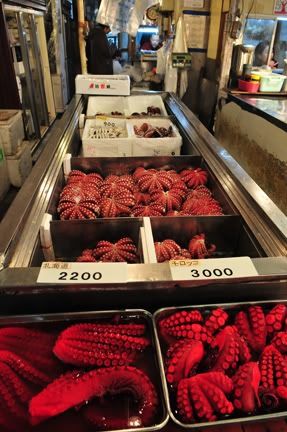 And besides all of that, after dodging mucky water puddles and the above-mentioned demon carts, this place is, without a doubt, where you can get yourself the
freshest
sushi breakfast ever! Not sure if you like sushi? Leave it to a middle-aged, Kansas lady to tell you that, when it's this fresh, it's really actually pretty tasty:
The look on Jacob's face isn't from his bowl of sashimi...It's from waking up at the butt-crack of dawn with no coffee and a breakfast of only fish fumes: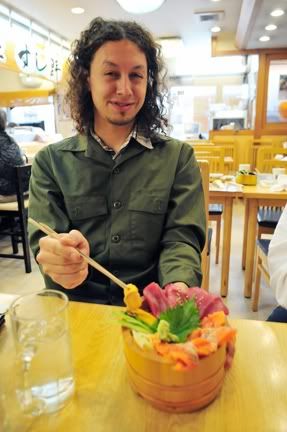 Not having or owning a car for a couple of years now, I don't tend to think too much about all the public transportation we normally take here to get us around (including a ton of walking as well). It's nice to have visitors who again point out these things, especially if they come from a state where public transportation is a novelty at best:
My mom thinks the people on the subway, however, really need to lighten up:
Bringing some Kansan flavor to Asia!
Tokyo may be billed as one of the most expensive cities in the world, but there are actually quite a few free things for a visitor to do as well. One of them is catching the awesome view of the city (where, on clear days, you can see Mt. Fuji as well) from the top floor of the Tokyo Metropolitan Government building:
Some scenes from the lovely area of Asakusa, where we actually stayed (below). Although it's not as central as some of the other districts in Tokyo, Asakusa tends to have retained a little more of its "old Tokyo" charm than the rest of the ever-modernizing city has, and that's why I like to stay here. It's an amazing little place to head out for a stroll:
Our last day in Tokyo, Jacob hopped on a big bird back to Sapporo to beckon the calls of work, and Mom and I headed off to walk around the Meiji Jingu shrine (also another Tokyo freebee), which
totally
makes you forget that you're walking around in the middle of downtown Tokyo. We got lucky and happened upon a couple of traditional weddings. And we even filled out an
ema
(votive tablet with a prayer written on it which are hung in Shinto shrines) for the ultimate in full shrine experience: