Stepping off of the train in Kyoto is like stepping into every photo book you've ever seen on Japan:
If you have a certain image of Japan, it probably originated here in Kansai, and more specifically in Kyoto. Although we were a few weeks early of the brilliant color change of all the fall foliage, the weather was gorgeous for temple-hopping!
We were also lucky in terms of accommodation. On that beloved of all my travel sites,
Couchsurfing
, we found an amazing host named Shoji. He has turned one of his rental properties into a free Couchsurfing guesthouse, hence forgoing quite a bit of additional income in order to meet and host travelers from all over the world!!!
We knew he was an excellent host when we told him we had lived in Missouri for a few years, and he said, "Oh,
Misery!
Like the Beatles song!" He didn't speak much English, but he
did
know an obscure Beatles song from their very first album!!! I love this guy!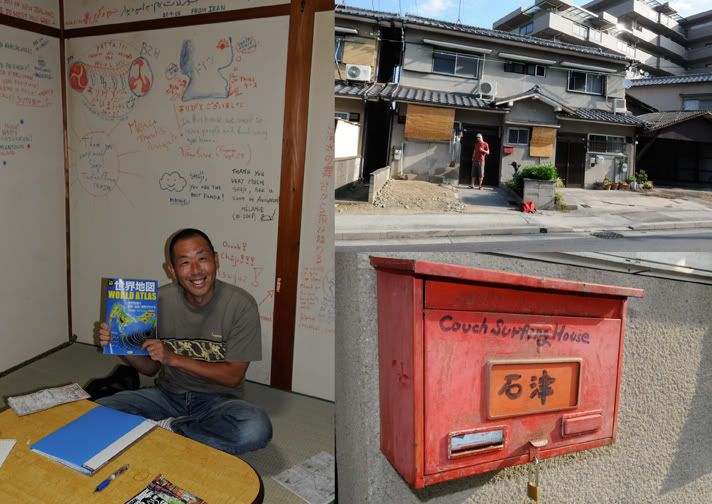 This was one of our most favorite sites and I probably took a hundred or so photos here. The Fushimi-Inari Taisha was dedicated in the 700s AD, and now consists of thousands of torii (orange shinto-shrine gates) covering countless paths and running all over a mountain side. Families and businesses donate torii to ensure prosperity, and the glowing orange masses among the sprawling nature are extremely cool.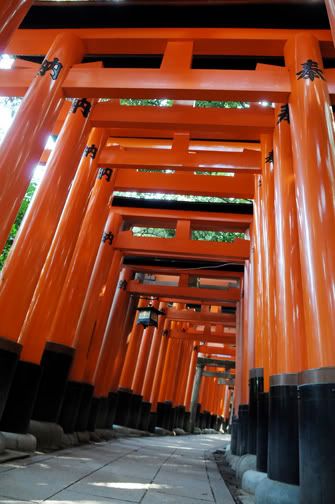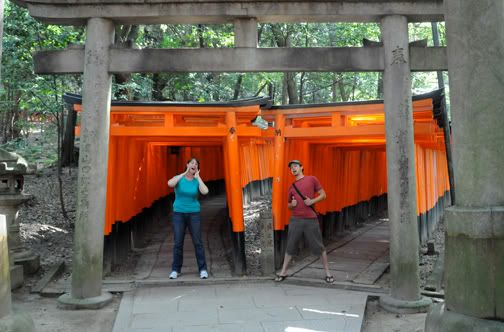 Kyoto itself has more than 1600 Buddhist temples and over 400 Shinto shrines, in addition to 17 Unesco World Heritage sites!! Serving as Japan's imperial capital between 794 and 1868, it is still considered by most Japanese (and foreigners) to be the cultural heart of the country.
What does all this mean, besides the fact that there is WAY too much to see and do in only four days? It also pretty much guarantees that I took WAY too many photos, some of which are represented below. But feel free to check out all the others here on our flickr site!
Gion was another favorite district of mine as it's lined with old wooden shops, restaurants, and tea houses from the days of a slower, more traditional Japan. You can still spot Geisha hurrying to appointments if you're lucky and patient (and I was both)...let me tell you, those ladies are fast and getting a good photo of them is extremely difficult (but, of course, worth it)!
Next stop on this journey, the city of Nara...