Turkey in the wintertime is an interesting world.
The skies are sunny. The trees are filled with oranges and pomegranates. And yet there's just a slight nip in the air that makes you glad you brought along a light coat. And, for the most part, you basically feel as if you have the place all to yourself. Glorious!
Flying into Antalya in the south, I immediately made my homebase in the historic
Kaleiçi
, or Old Town. Until modern times, this quaint area of Roman, Byzantine, Selijuk, and Ottoman architectural styles was entirely confined within its city walls, with the Mediterranean Sea bordering one side. It is the Mosque-pierced heart of Antalya, and a charming place to wander even in the depths of the chilly low-season:
The show-stopper in Kaleiçi is the triumphal Hadrian's Arch built in the year 130 to commemorate the Roman emperor's visit to Antalya. As the old city walls were eventually built enclosing the gate, it wasn't discovered until they came crumbling down (leading to its preservation over the years). Legend has it that the Queen of Sheba herself passed through the gate on one of her many overland travels:
While there were many shops and restaurants in
Kaleiçi closed for the season, the empty streets made for some delightful wanderings...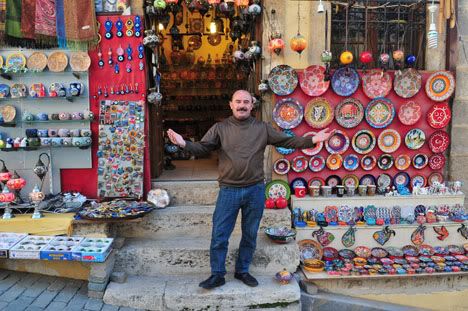 Of course, no season is low enough to thwart the touts from all of the Turkish rug and carpet sellers! "Hey, lady! You want carpet?" "Where you from" "Come in my shop and have tea!"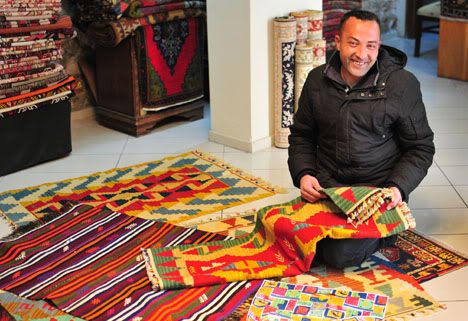 The blue
nazar
can be found all around Turkey above doors, inlaid in walls, incorporated into jewlery, and even pinned to babies' clothing. This eye-shaped amulet is believed to protect against the "evil eye," which is a look that can cause injury or bad luck as a result of envy or dislike:
I seriously lucked out with the weather, as the days during our conference the following week were filled with cold, gray skies and thunderstorms: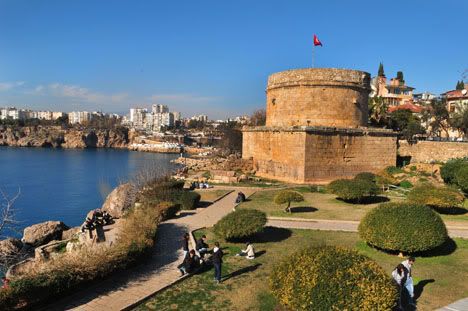 On the Mediterranean side of Kaleiçi lies the Old Roman Harbor, which was once the lifeline of Old Antalya (and is now the lifeline of crazy boat-tour operators and their series of "cousins"):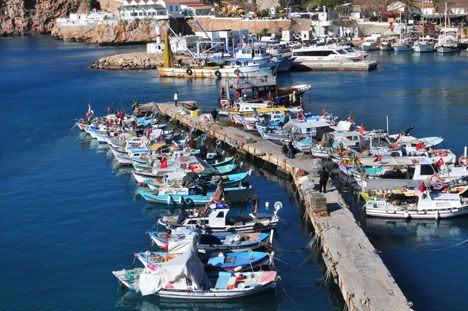 Can I just pause for a bit and talk about Turkish food? Because, seriously, you can do some hardcore eating in this country! From honey-drenched baklava and super sweet lokum (Turkish delight), to pide (like a Turkish pizza) and döner kebap, to fresh squeezed juices (oranges and pomegranates are in season this time of year!) and sickly-thick Turkish coffee, the food is a sight onto itself: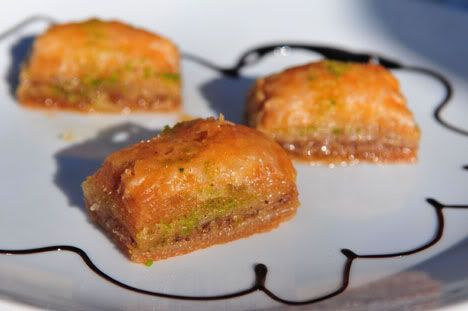 For those of you already enchanted by this lovely city, the Sabah Pansiyon is an excellent place to stay (and eat, thanks to Mama's home cooking):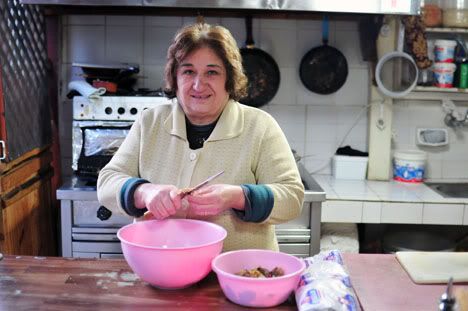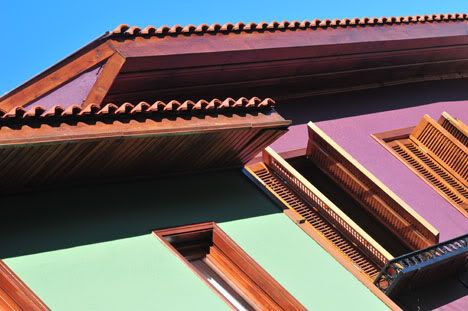 If you find you've downed just a few too many pieces of bakalava, you can sweat and scrub it out at
a traditional
hammam
(Turkish bath)...just don't find out the hard way if it's co-ed or not unless an all-gender naked show is your kind of thing:
The Mediterranean Sea and gorgeous sunsets. Not a bad break from snowy wintery depths elsewhere:
From Antalya, I took a weekend trip to Pamukkale and Hieropolis in the mid-West, near Denizil, and that's where we'll start off on tomorrow...