Have I mentioned the amazing eating in Turkey? Yes? Well, then let me drone on a little more about such dishes as
manti
(kind of a Turkish ravioli stuffed with spiced lamb and covered in yogurt, chili, and garlic),
firinda sutlac
(baked rice pudding), fresh oranges and pomegranates, and the most insanely sweet desserts ever (and more than just
bakalava
at that)!
Fueled up in delicious Turkish style is the best way to take in the sights of downtown Istanbul.
Situated across the way from the grandiose Hagia Sophia is Sultan Ahmed Mosque, commonly known as The Blue Mosque (due to its more than 20,000 handmade tiles that adorn the inside).

This beautiful mosque was built in 1609 with intentions of rivaling the beauty and splendor of nearby Hagia Sophia. Walking by the men washing their feet in preparation for prayer, I have to say that this is the first mosque I've ever visited, and it was definitely a breathtaking affair: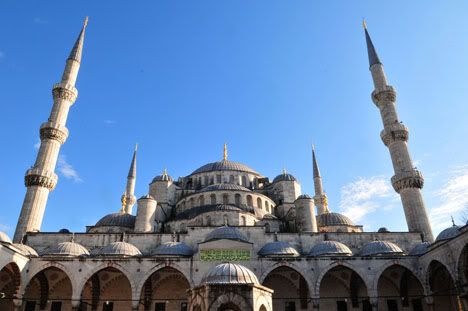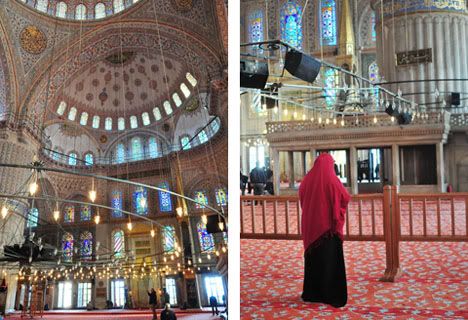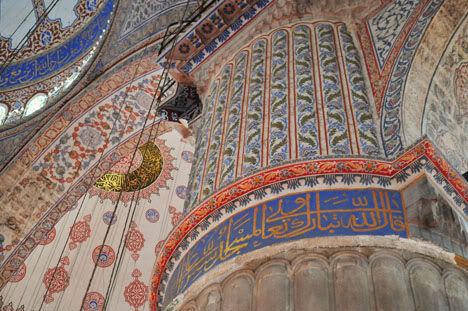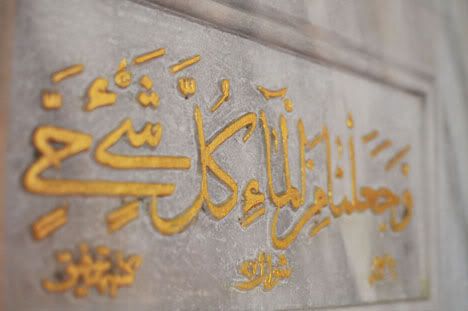 My first day and evening in Istanbul were sunshiny, clear-sky perfection:
The next day, however, looked like this: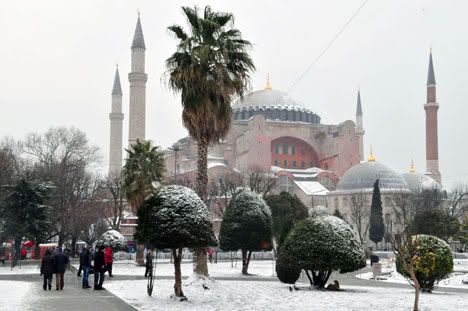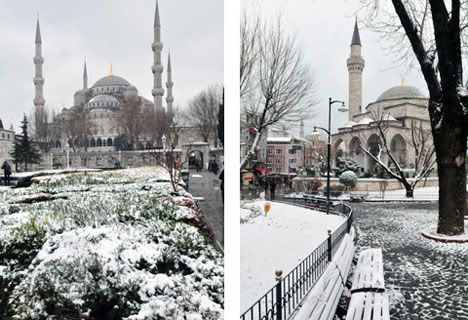 In what has proven itself to be quite the frozen chill covering Europe, Istanbul's snowy, chilly weather defied any stereotype I've ever held about weather in this country! At least I had more reasons to up my creamy, spicy, hot salep intake:
And it's a good thing that so many of Istanbul's wonderful markets are inside. This is the Spice Bazaar, one of Turkey's oldest markets (although the "newer" building that it's now housed in dates to 1660). The Spice Bazaar is such a delight to wander though. Mingling smells of sculpted spice-pyramids, dried fruits and herbs, candied fruits, oils and extracts, and other goodies dance around shop-keepers' touts, and tourists with cameras. Perfect way to spend a snowy day:
And, you know, it wouldn't be a proper send-off from me without yet another ode to my favorite Turkish treat:
I loved getting a little sampling of this amazing country in anticipation of so many things for which to go back! And I'm not only talking about bakalava...