Unlike the more traditional set up of the Nuremberg Christkindlmarkt, or Christmas market in Germany, Munich has a variety of markets spread out over many areas, plazas, and lanes.
The largest, and main draw, is the Christmas market on the main square known as the Marienplatz (St. Mary's Square), and has all the usual market staples such as lebkucken (gingerbread) and glühwein (hot, spiced wine):
Of course, in Munich there are a few surprising market treats as well:
Also, as opposed to the many woodworks and handmade prune people that were for sale in Nuremberg, these stalls tended to have more mainstream items such as glass ornaments, painted glass baubles, and nativity scenes:
On the one day that it snowed in Munich (and quite heavily, I might add), I headed out to Theresienwiese, a huge open plaza which has its main claim to fame as the official site of Oktoberfest. During the summer and winter, however, it also hosts a huge seasonal festival; the winter one being the Tollwood Winterfestival and Market. Tollwood is a lovely cultural and ecological event with craft stalls, environmental activities, an organic world food court, entertainment, lots of art, and more. Even in the horizontal snow, it was still a treat to walk around and photograph (after a hearty Indian meal and a hot coconut rum drink, naturally):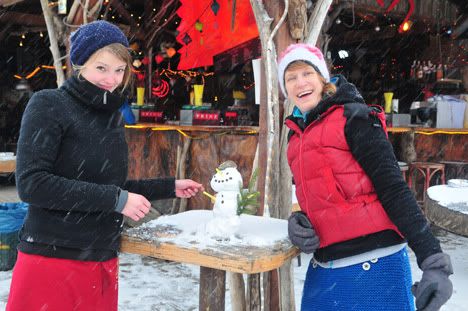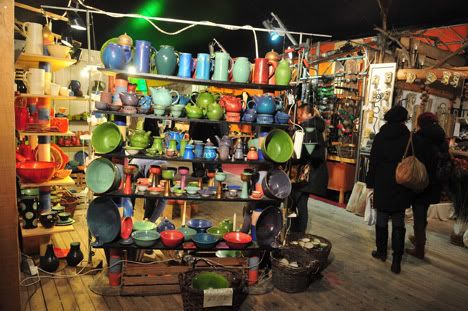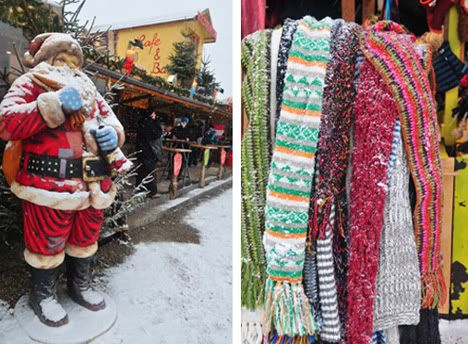 It seems that every plaza or open space that you stumble upon in Munich at this time of year is hosting some sort of Christkindlmarkt. I particularly liked the little ones that sprang up along the old city walls and gates:
And last, in a glorious defiance of pink and fabulousness, the Pink Christmas market is a gay and lesbian tribute to the theme, and a nice little break from traditional Christmas market overload (but, let's be honest, can you really overload on these wonderful markets? Unless you're my husband, then NO!)
Needless to say, Germany filled me up with absolute festive Christmas delight, and even threw in a few surprises as well! A trip to one (or more) of the delightful Christmas markets hosted by this country comes highly recommended as a way to escape the Wal-Mart/Black Friday/Gift Card/Starbucks/Traffic jam-mania that so often seems to accompany the American holiday season back home!