Easter is, by far, the hugest holiday in Ukraine (not to mention in all of her former USSR sisters and Russia as well). It usually consists of a three-day weekend filled with family, friends, church-going, and massive amounts of food-consumption (washed down with a "little" vodka, cognac, or wine, of course!). One of the more unique traditions is to fill a basket filled with beautifully decorated
pysanka...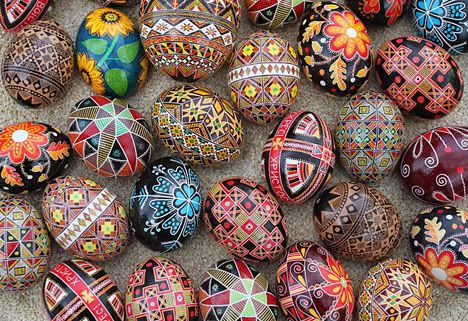 ...and take them to be blessed at the special Easter church service, which begins at midnight and lasts until four in the morning on Easter day! After the service, folks head home to the aforementioned feast and fellowship.
During my Easter in Ukraine, I did none of this.
My original plans were to celebrate Easter in the little village of Petrovka, but my host cancelled because of sickness within the family. Fortunately, all plans were not scrapped as I got to enjoy a lovely day-after-Easter lunch of fresh borscht, homemade salads, Crimean wine, and desserts with one of my Russian teachers and a friend at her cozy apartment:
The only thing that could go wrong did: out of three of us, no one could open either bottle of wine, and we had to resort to a random taxi driver on the street below to help us out!
Of course, there was Easter cake, chocolates, a little coffee from Vienna, and lots of sweet conversation for dessert!
Although I didn't get to experience all of the full-on tradition and fanfare of this colorful holiday here in Ukraine, I can't think of a better way to spend my day off than with new friends and amazing food. христос воскресе!